The healthcare industry is vast, with various specialities and sub-specialties. Therefore, for Life Science and Health companies looking to market their products or services, more than a one-size-fits-all approach is required. Doctors, being at the forefront of patient care, are critical stakeholders. So it is important when creating doctor marketing strategies, or any healthcare marketing strategy, that it appeals to their individual needs and concerns. This blog will cover how to create a compelling strategy that connects with doctors and supports you in reaching your marketing goals.
Understand Doctors Personas
Understanding & developing the personas of your doctor as a target audience is the first step in creating a doctor marketing strategy. Not all doctors have the same concerns or needs. A cardiologist's priorities differ from a dermatologist's. Knowing your target audience is essential to having a successful medical marketing strategy. To understand your audience, it's important to stay updated with market trends. Further, learn and optimise your marketing strategy from the current client's feedback.
You can also use our persona template to fill in the necessary information to understand HCPs and patients. Use the link below to download the template.
Download the HCP Persona Template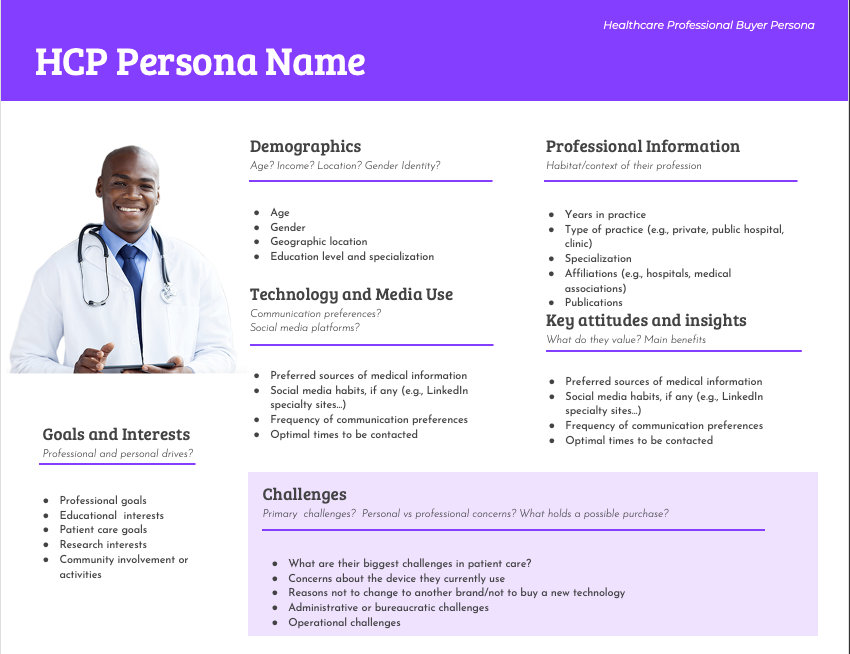 Ways to Stay Updated
Reviewing medical journals or reviewing relevant online healthcare communities
Attend various medical conferences to interact with and understand your target group. 
Engagement on social media is becoming highly vital; understanding what potential audiences like and share is crucial to knowing who they are. 
Regular market research through focus groups or surveys and questionnaires can help you get direct insights from doctors about their preferences, concerns, and unmet needs.
Inform Doctors About New Medical Practice
Doctors are lifelong learners. They value content that adds to their knowledge and assists them in providing better patient care. Therefore, a Life Science company must know and share the most recent medical practices. This can be done by providing various webinars, workshops, whitepapers and case studies.
Share scientific data, research findings, or case studies that highlight the usefulness and benefits of your product/service. Investing in marketing assets like whitepapers, case studies, webinars, and workshops can effectively address these needs, building trust, credibility, and long-term relationships with Healthcare Professionals.
Optimise Your Website Based on Doctor Personas
In an industry where innovation, research, and data-driven solutions are essential, a website must showcase a company's advancements, products, and breakthroughs in a structured and compelling manner.
Additionally, as healthcare professionals, researchers, and potential partners increasingly turn to digital platforms for information and collaboration, a user-friendly and informative website ensures that a life science company can effectively engage its healthcare community, building trust and credibility. To learn more about developing a web platform with us, check out our guide on web development.
Engage Doctors with Email Marketing
Email Marketing has various benefits, from creating strong client relationships to high ROI. Offering a direct channel to your doctor's audience's inbox for consistent and personalised engagement. Turning your marketing strategies into creating a personalised email marketing strategy would enhance the user experience and advance brand loyalty.
The fact is that 77% of marketers have seen an increase in email engagement since the start of their email campaign. When executed effectively, this approach ensures doctors feel valued and understood, ultimately encouraging long-term relationships and boosting overall sales and engagement. Learn more about email marketing with our guide to continue to thrive in the Healthcare industry.
Use Social Media Marketing to Connect with Doctors
Embracing social media marketing is essential for any healthcare business. Platforms like LinkedIn, Xing, Threads, etc., offer a tremendous opportunity to engage, inform, and connect with doctors efficiently. Below is a list of platforms that can be used to optimise social media marketing.
LinkedIn
LinkedIn, often considered the "professional social network," is a prime platform for Life Science companies to showcase their expertise, products, and services. It offers features like:
Advertising to Healthcare Professionals: Based on the HCP job title, skills, interest, age, location and other elements to narrow down your targeting, you can show your ad effectively to HCPs.
Articles & Posts: You can share insights, recent developments, and industry trends through organic content or paid ads.
Company Pages: Don't underestimate the value of optimising the company page. You must highlight your company's milestones, products, and services.
Networking: Connect directly with doctors, healthcare professionals, and other industry peers. Engage in meaningful conversations and participate in specialised healthcare groups.
Below is an example of Bayer posting an educational LinkedIn post to engage the target group.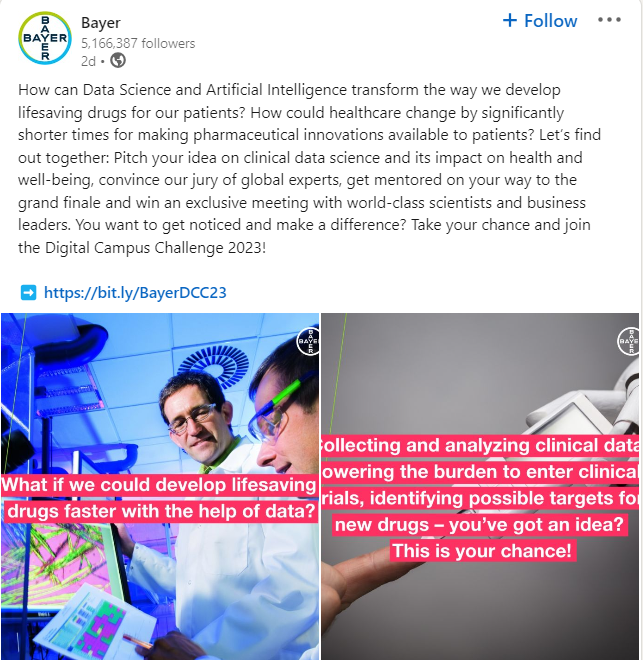 Xing
Popular in German-speaking countries, Xing is another professional networking site similar to LinkedIn. For LSH businesses targeting the European market, especially the DACH region (Germany, Austria, Switzerland), Xing can be a goldmine:
Profiles & Company Pages: Showcase company achievements, product launches, and more.
Events: Promote webinars, workshops, and other events tailored for the medical community.
Networking: Connect with medical professionals, gather feedback, and build collaborations.
Threads
While not as distinguished as other platforms, Threads can offer niche audiences, and it is a relatively new platform compared to others. It means that ads are currently very cheap compared to the other platforms. So, take advantage of this platform before it gets expensive. Besides, within the platform, it is crucial to:
Engage in Conversations: Participate in relevant threads, share insights, and answer queries.
Share Information: This platform will distribute recent studies, whitepapers, or other information.
Build a Following: Consistent and quality participation can help you gain a dedicated follower base, ensuring your messages reach a targeted audience.
X [Former Name: Twitter]
Despite its name change, X remains a vital platform for quick, real-time updates and engagements. The feature X includes:
Live Updates: Share real-time happenings, be it a product launch, a seminar, or a significant industry development.
Engage with Influencers: Engage with healthcare influencers, reshare their content, and participate in relevant hashtag trends.
Feedback and Interactions: Quick polls, Q&A sessions, or simply sharing snippets of valuable information can help keep your audience engaged and informed.
By harnessing these platforms effectively, Life Science companies can create a wave effect, expanding their reach and solidifying their position in the medical community. As shown below, even simply posting relevant topic information can increase engagement.
Use SEO Tactics to Reach Out to Doctors
With healthcare marketing, it's essential to grasp healthcare professionals' terms and phrases when seeking information on search engines. Digital tools like Google's Keyword Planner, SEMrush or Ahref are vital in identifying these phrases for your marketing efforts. Using these platforms can help you rank higher in search engine rankings.
Moreover, optimisation for local search becomes essential if your healthcare products or services are concentrated in specific locales. This involves claiming and verifying your business on platforms like Google My Business, gathering reviews, and providing contact information on all social media platforms.
Integrating these search engine optimisation techniques ensures Life science companies can share valuable content with doctors and boost their visibility online.
Take Advantage of a Patient-Oriented Healthcare Marketing Strategy
Doctors have a deep-seated commitment to their patients. Showcasing how your medical products can enhance patient outcomes becomes essential to healthcare marketing strategy.
Therefore, any product, service, or innovation introduced by life science companies should align with this central mission of delivering tangible patient benefits.
Engage Doctors with Google Text Ads
When Life Science companies want to reach doctors and other healthcare professionals, one of the most effective ways is through Google Text Ads. These ads are often seen atop and beside search results. It can target specific queries that doctors might use to gather information or seek solutions.
Targeted Keywords: By leveraging keyword research tools, life science companies can discover the most searched terms by doctors in their field. Whether it's a medical procedure, equipment, or recent research, the right keywords can ensure your ads appear at the right time for the right audience.
Customised Ad Copy: Tailor your ad copy to address the specific needs or concerns of the doctors. Highlight benefits, call-to-action, unique selling points, or other unique offerings that appeal to doctors.
Landing Page Relevance: Ensure your ad leads to a highly relevant landing page. Suppose a doctor clicks on an ad about a specific medical device. In that case, they should be taken to a page detailing that device, its benefits, and its applications rather than a generic homepage.
Monitor & Optimise: Regularly track the performance of your ads. Analyse click-through rates, cost-per-click, conversion rates, and other vital metrics. Use this data to refine your ad strategy and achieve better results.
Don't Neglect the Healthcare Advertising Rules & Regulations
Understanding the complexity of marketing within the healthcare industry is challenging, mainly due to the countless advertising rules and regulations. These regulations protect consumers and healthcare professionals from misleading or inappropriate information.
Accuracy is Key: Every claim made in your advertising, especially those related to health outcomes or product efficacy, must be accurate and backed by scientific evidence. Making bloated or false claims can lead to severe penalties and damage your company's reputation.
Patient Privacy: If using patient testimonials or data in your advertising, ensure you have the necessary permissions and that all personal information is anonymised or protected to uphold patient confidentiality.
Understand Regional Differences: Healthcare advertising regulations can vary significantly from one region or country to another. Understanding and adhering to local regulations is essential when targeting doctors in specific geographies.
Regular Training & Updates: Continuously educate your marketing team on the latest advertising regulations. Keeping your team informed can help prevent unintentional breaches and ensure compliance.
Engage Legal Counsel: Given the complex nature of healthcare advertising regulations, reviewing your advertising materials with legal professionals specialising in healthcare marketing is wise.
By being aware of and respecting these rules and regulations, life science companies can establish trust within the medical community and maintain a positive, ethical reputation.
For further information on the regulation of healthcare marketing, Google has more insights here. You can also contact us to develop a step-by-step solution for your marketing goals in the healthcare industry. We have been running Google ads for more than 10 years and mastered it. To contact us, simply click this link and follow the instructions.